Seat Leon >> Steering box
To achieve the desired results when performing repairs on the steering box it is important to work with the greatest possible care and cleanliness, and to use proper tools in good condition. Always observe the basic safety rules when performing servicing procedures.
A number of general notes on the individual repair procedures, which were otherwise repeated in the relevant sections of the manual, are summarised here. These regulations are valid for this repair manual.
Thoroughly clean all unions and the adjacent areas before disconnecting.
Ensure proper seating of dowel sleeves for centralising suspension bracket and steering box when installing.
Place parts that have been removed on a clean base and cover them so that they do not get dirty. Use foil or paper. Use only lint-free cloths.
Only fit clean parts: remove the wrapping of the spares just before use.
Use only the grease and sealants with specified part numbers.
If repairs cannot be carried out immediately, carefully cover or seal open components.
Gaskets, seals
Always renew oil seals and seals.
Check contact surface on housing or shafts for burrs and damage after removing the seals, and repair as required.
Completely remove all residue from liquid sealants from the sealing surfaces, making sure that no residual sealant gets into the steering box housing.
Bolts, nuts
Loosen and tighten bolts or securing nuts for covers and housings diagonally.
Avoid canting particularly sensitive parts such as servo motor with control unit. Loosen and tighten them diagonally in stages.
The specified torque values listed apply to unlubricated nuts, bolts and screws.
Always renew self-locking bolts and nuts.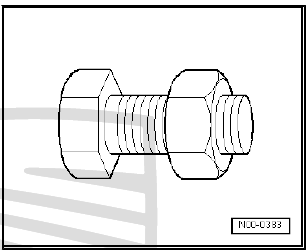 Electrical components
No doubt you have been shocked when touching a metal object.
This is due to the electrostatic charge in the human body. This charge can cause malfunctions if you touch the electric steering box and steering column components.
Before working on electrical components, touch an earthed object, such as a water pipe or a lifting platform. Do not directly touch connector contacts.