Seat Leon >> Exhaust gases inspection (petrol engines) using the exhaust gas analyser - SAT 3500A
NOTICE Please observe the country-specific laws and regulations.
The following exhaust emissions test description is applicable only in countries where no specific exhaust emission regulations have to be adhered to.
Special tools and workshop equipment required
Exhaust gas analyser - SAT 3500A-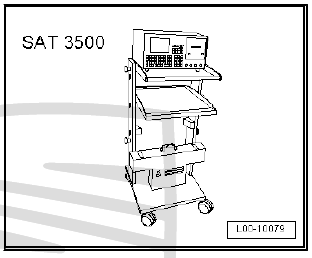 Check prerequisites
Allow the engine to reach service temperature.
Oil temperature should be above 70 ºC
Turn off all electricity consumers.
Air filter must be OK.
There should be no fault recorded.
The exhaust system must be sealed .
Switch on the exhaust gas analyser - SAT 3500A- .
The display for warm-up phase appears.
When F1 petrol is selected, the gas measure screen is displayed.
(The equipment must be calibrated with the probe in the exhaust tube).
Calibrate the exhaust gas analyser - SAT 3500A- according to the instructions in the - Petrol/diesel exhaust gas analysis set .
Fit the probe -1- to the exhaust tube.
When calibration is finished, the machine begins the exhaust gas analysis automatically.
% vol. CO, carbon monoxide
% vol. CO2, Carbon dioxide
ppm-% HC, uncombusted hydrocarbons
% vol. O2, remaining oxygen
Lambda factor (Brettschneider formula)
Value of ppm NOx, nitrogen oxides
All the data required for the inspection is available in - Data pages for exhaust gas inspection .
If the real values differ from specifications then carry out repairs.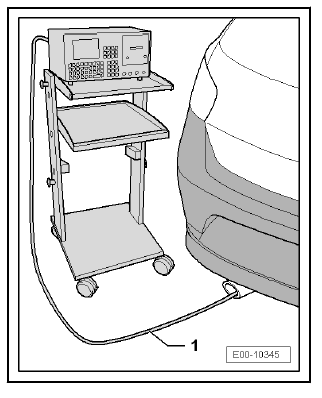 NOTICE A new calibration must be done for each measurement; remember to remove the probe from the exhaust.