Seat Leon >> Full Link connection process
NOTICE A data connection via WiFi or via SIM is not necessary to establish the connection to the smartphone using Full Link.
However, in order for all features of the applications to be available, a data connection via WiFi or via SIM is required.
Please proceed as follows to use Full Link:
Switch on infotainment.
Connect the smartphone to the USB cable at the USB connection.
Select the following in the main menu of the Infotainment system:

3.1. Full Link
3.1.1. Settings
3.1.1.1. Activate data transfer for SEAT Apps: switch on
3.1.1.2. Preferred connection type: Choice between Mirror Link or Android Auto (only for Android phones compatible with both technologies. In the case of phones with the iOS system, the connection is automatically established if the phone is compatible)
3.1.1.3. Select device from the list of devices.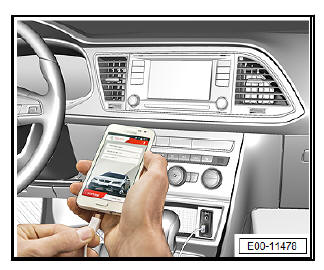 NOTICE Depending on the device, it may be necessary to unlock it so that a connection can be established.
4th A message appears informing that the data transfer will begin once the device is switched on. Press OK.
The technology compatible with your device can now be used.
Interior and exterior body: Perform visual check for corrosion when doors and flaps are open
Test locations
Sunroof frame
Inner and outer door frame
Area around trim strips
Windscreen roof edge
Outer and inner A-pillar
Bonnet
Wheel housings
Inner and outer tailgate