Seat Leon >> Drive shaft dust cover: Visual inspection for damage
Check the dust protection on inside and outside of propeller shafts -arrows- for damage and leakage.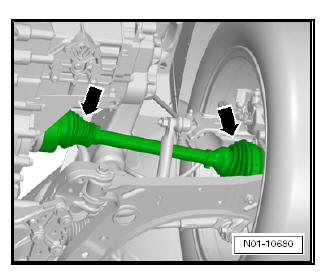 Ball joint mount: check the play, correct seating and the dust protection caps.
NOTICE The test must be carried out with vehicle raised on a lifting platform (wheels hanging).
Check play by moving the track rods and wheels.
There must be no clearance.
Care must be taken that the counter nut of the steering joint is tightened to 50 Nm.
Make sure that the dust protective caps -arrow- are not damaged and are properly fitted.