Seat Leon >> Removing and installing relay and fuse holder in E-box
Removing
With the ignition switched off, disconnect battery earth cable.
Remove air filter housing .
Press release tabs -arrow- and detach cover -1- for electronics box (engine compartment).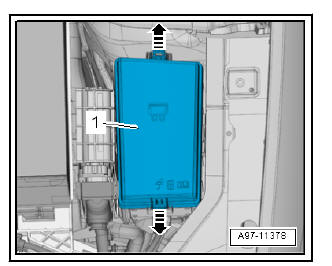 Release retaining tab -2- with a screwdriver and pull off cover (front) -1- upwards -arrow-.
Mark assignment of electrical wiring at screw connections for re-installation.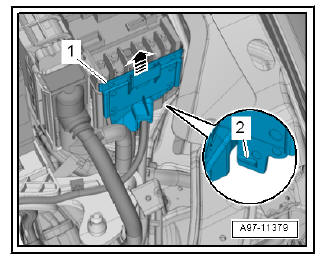 Remove nuts -1, 2, 4, 5 and 6- and screw -3- and expose electrical lines -arrow-.
Cut through cable tie (bottom) on wiring harness.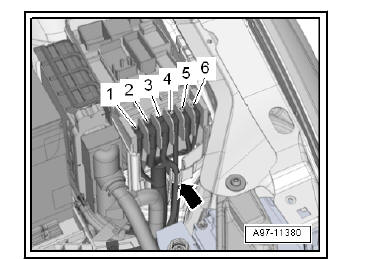 Unlatch catch mechanisms -1, 2 and 4- in -the direction of the arrow- , remove fuse holder B -3- and place to the side.
Installing
Installation is carried out in the reverse sequence; note the following:
Fit and secure electrical wiring to fuse holder A according to markings made earlier.
Connect battery.