Seat Leon >> Removing and installing dipped beam bulb M30 / M32
Note
The following illustrations show renewal of the main beam bulb for the left headlight. The high-beam bulb in the right-hand headlamp is replaced in the same way.
The headlight does not have to be removed.
Removing
Switch off ignition and all electrical consumers.
Vehicles without access and start authorisation system
Remove ignition key, if fitted.
Vehicles with access and start authorisation system
Store the ignition key outside the vehicle to prevent the ignition from being switched on unintentionally.
Continued for all vehicles
Separate the headlight cover -3-.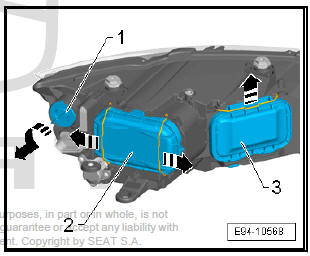 Disconnect the plug connector -1- from the bulb for left high beam - M30- .
Remove the bulb -2- from the frame of the reflector by pressing it.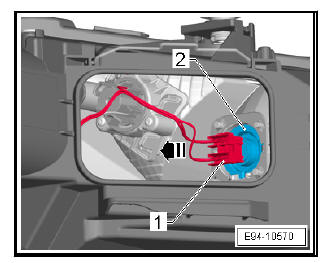 Installing
Note
Never allow bulb glass to come into contact with hands.
When installing, make sure that the lugs of the lamp are fitted correctly to the headlight mount.