Seat Leon >> Removing and installing bonnet
Special tools and workshop equipment required
Torque wrench - V.A.G 1331-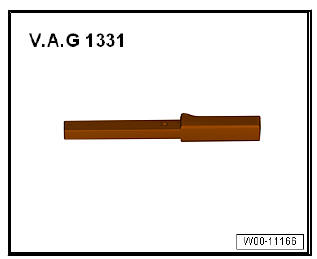 Removing
Lift the front bonnet. Use the rod to keep it open.
Remove the supply hose -1- of the windscreen washer system.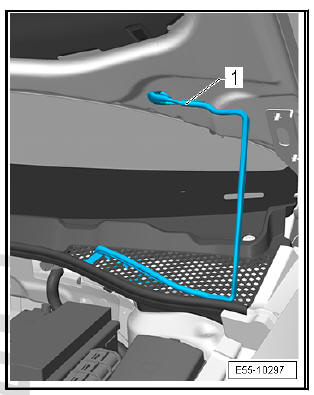 With the assistance of a second mechanic unscrew the four securing nuts -arrows- of the bonnet from the hinges and remove the bonnet.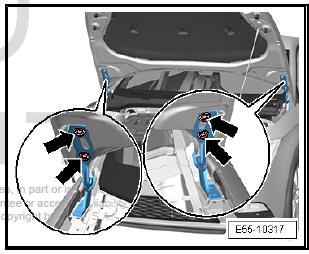 Note To protect the components removed against damage, cover the resting surface with soft material.
fitting
Fit in reverse order from removal, remembering the following:
Place the front bonnet so that the threaded bolts are fastened on the openings of the hinges and tighten the hexagonal nuts by hand.
Connect the supply hose -1- of the windscreen washer system.
Bonnet: adjustment
On completion of the adjustments tighten the hexagonal nuts.
Adjust windscreen wiper jet.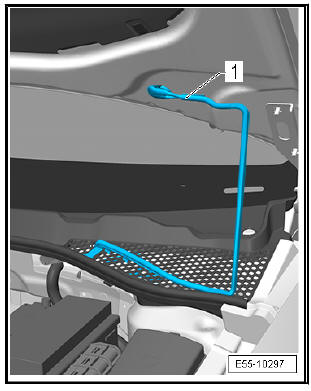 - Bolt. 2 off 10+- 1 Nm For fastening the release lever Item 2 - Release handle Removing Unthread the bolts -2- and remove the release lever. Adjusting: T ...
Special tools and workshop equipment required Torque wrench - V.A.G 1331- Adjustment gauges - 3371- CautionFor carrying out the basic adjustment of the bonnet, the vehicle ...
See also:
Exploded view - transverse links
Assembly overview - transverse link, multi-link suspension, front-wheel drive - Nut Always renew after removing - Plate - Lower transverse swinging arm Removing and installing ...