Seat Leon >> Assembly overview - bonnet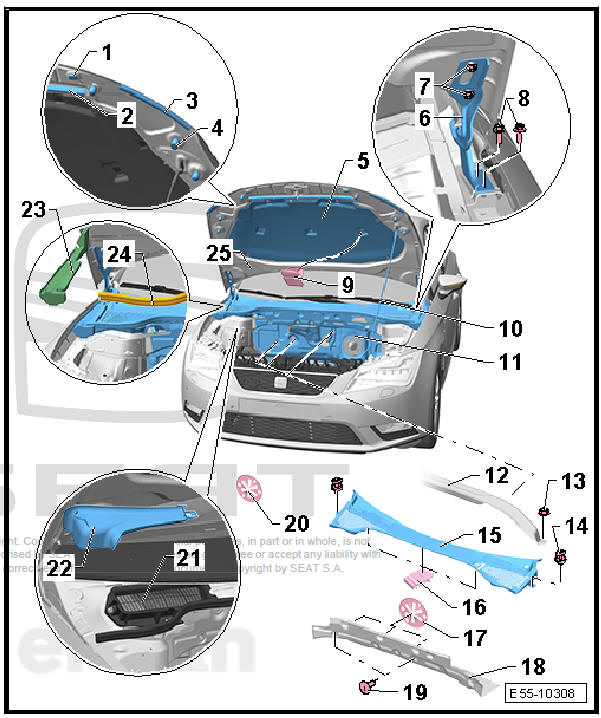 - Fixed rubber limiters
- Bonnet seal
- Bonnet seal
- Adjustment buffer

Using the adjustment catches, the height of the bonnet can be adjusted in relation to the wings
2 + 2 each

- Bonnet sound proofing
- Hinge for bonnet
- Nut
- Bolt.
- Retaining clip
- Front bonnet support rod
- Engine compartment noise insulation
- Plenum chamber cover
- Nut
- Expansion rivet

1 + 1 each
Always replace.

- Grille below windscreen
- Quick locking nut
- Retaining clip

To fix the noise insulation of the plenum chamber cover
3 off
Open with screwdriver
Always replace.

- Soundproofing on water box
- Securing cap

To fix the noise insulation of the plenum chamber
2 off

- Retaining clip

For attaching the bonnet noise insulation
5 off
Open with screwdriver
Always replace.

- Air duct grille
- Air duct grille cover
- Separator

1 + 1 each
Removing and fitting

- Plenum chamber seal
- Bonnet
- Bolt. 2 off 10+- 1 Nm For fastening the release lever Item 2 - Release handle Removing Unthread the bolts -2- and remove the release lever. Adjusting: T ...
See also:
Headlight washer system*
The headlight washers clean the headlight lenses. The headlight washers are activated automatically when the windscreen washer is used and the windscreen wiper lever is pulled towards the steering ...