Seat Leon >> Emergency opening
This allows the vehicle to be opened if the central locking does not operate (for example if the battery is flat)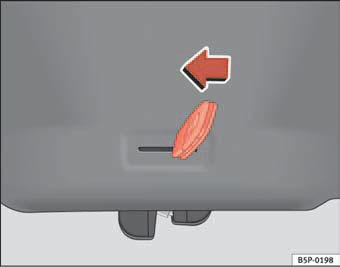 Fig. 67 Tailgate: emergency opening
There is a groove in the boot allowing access to the emergency opening mechanism.
Opening the tailgate from inside the luggage compartment
– Insert the key bit in the groove and unlock the locking system, turning the key from right to left, as shown by the arrow fig. 67.
The operation of the tailgate opening system is electric. It is activated by using the handle on the tailgate Fig. 65 Tailgate: Opening from the outside Fig. 66 Detail of the tailgate inner t ...