Seat Leon >> Exploded view - electronic damping control
Assembly overview - electronically controlled damping system, torsion beam axle, saloon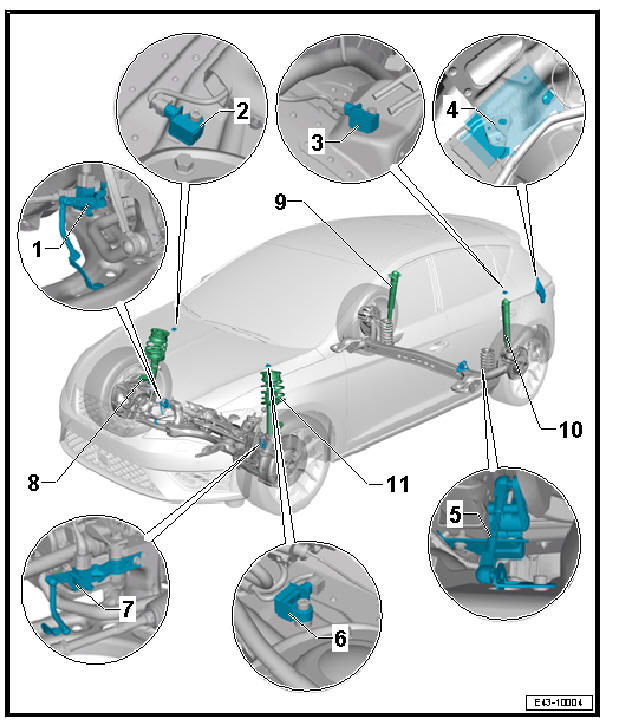 - Front right vehicle level sender - G289-
- Front right body acceleration sender - G342-
- Body acceleration sender, rear - G343-

Location: on left suspension strut dome behind left side panel trim in luggage compartment.
Removing and installing

- Electronically controlled damping control unit - J250-

Removing and installing
Location: electronically controlled damping control unit - J250- is installed behind left side panel trim in luggage compartment.
Function Replace control unit must be performed with - Vehicle diagnostic tester if electronically controlled damping control unit - J250- is renewed.
If the reference position has been re-adapted, the front camera for driver assist systems must be recalibrated on vehicles with lane departure warning function

- Vehicle level sender, left side of the rear part - G76-
- Front left body acceleration sender - G341-
- Front left vehicle level sender - G78-
- Shock absorber with front right shock absorber damper adjustment valve - N337-

Removing and installing suspension strut
Servicing suspension strut

- Shock absorber with rear right shock absorber damper adjustment valve - N339- .

Removing and installing shock absorber
Servicing shock absorber

- Shock absorber with rear left shock absorber damper adjustment valve - N338- .

Removing and installing shock absorber
Servicing shock absorber

- Shock absorber with front left shock absorber damper adjustment valve - N336-

Removing and installing suspension strut
Servicing suspension strut
Assembly overview - electronically controlled damping system, multi-link suspension, saloon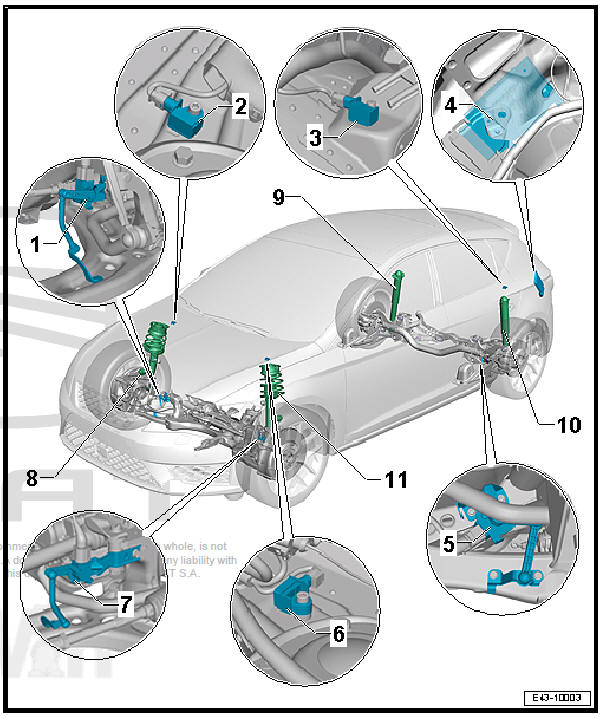 - Front right vehicle level sender - G289-
- Front right body acceleration sender - G342-
- Body acceleration sender, rear - G343-

Location: on left suspension strut dome behind left side panel trim in luggage compartment.
Removing and installing

- Electronically controlled damping control unit - J250-

Removing and installing
Location: electronically controlled damping control unit - J250- is installed behind left side panel trim in luggage compartment.
Function Replace control unit must be performed with - Vehicle diagnostic tester if electronically controlled damping control unit - J250- is renewed.
If the reference position has been re-adapted, the front camera for driver assist systems must be recalibrated on vehicles with lane departure warning function

- Vehicle level sender, left side of the rear part - G76-

Removing and installing, front-wheel drive

- Front left body acceleration sender - G341-
- Front left vehicle level sender - G78-
- Shock absorber with front right shock absorber damper adjustment valve - N337-

Removing and installing suspension strut
Servicing suspension strut

- Shock absorber with rear right shock absorber damper adjustment valve - N339- .

Removing and installing shock absorber
Servicing shock absorber

- Shock absorber with rear left shock absorber damper adjustment valve - N338- .

Removing and installing shock absorber
Servicing shock absorber

- Shock absorber with front left shock absorber damper adjustment valve - N336-

Removing and installing suspension strut
Servicing suspension strut
Assembly overview - electronically controlled damping system, multi-link suspension, variant
- Front right vehicle level sender - G289-
- Front right body acceleration sender - G342-
- Body acceleration sender, rear - G343-

Location: on left suspension strut dome behind left side panel trim in luggage compartment.
Removing and installing

- Electronically controlled damping control unit - J250-

Removing and installing
Location: electronically controlled damping control unit - J250- is installed behind left side panel trim in luggage compartment.
Function Replace control unit must be performed with - Vehicle diagnostic tester if electronically controlled damping control unit - J250- is renewed.
If the reference position has been re-adapted, the front camera for driver assist systems must be recalibrated on vehicles with lane departure warning function

- Vehicle level sender, left side of the rear part - G76-

Removing and installing front-wheel drive
Removing and installing four-wheel drive

- Front left body acceleration sender - G341-
- Front left vehicle level sender - G78-
- Shock absorber with front right shock absorber damper adjustment valve - N337-

Removing and installing suspension strut
Repairing suspension strut

- Shock absorber with rear right shock absorber damper adjustment valve - N339- .

Removing and installing shock absorber
Servicing shock absorber

- Shock absorber with rear left shock absorber damper adjustment valve - N338- .

Removing and installing shock absorber
Servicing shock absorber

- Shock absorber with front left shock absorber damper adjustment valve - N336-

Removing and installing suspension strut
Repairing suspension strut
Removing and installing electronically controlled damping control unit - J250- , saloon Special tools and workshop equipment required Vehicle diagnosis tester Removing Location: electronica ...
See also:
What affects driving safety?
Driving safety is largely determined by your driving style and the personal behaviour of all occupants. As driver, you are responsible for yourself and your passengers. When your concentration or ...