Seat Leon >> Overview of fitting locations - operating and display unit
Installation location of the heating and air conditioner control unit components -J301-
Air conditioning control unit - J301-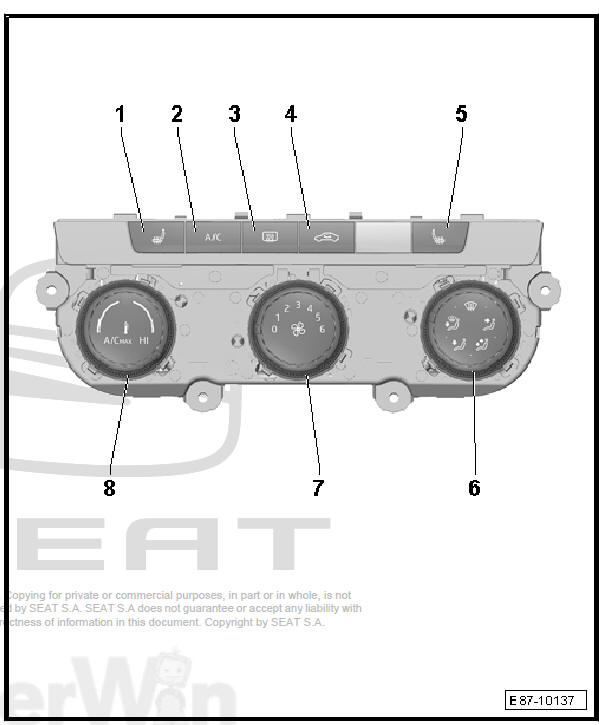 - Left seat heating button
- AC button for air conditioner compressor
- Heated rear window button
- Air recirculation button
- Rotary control for setting air distribution
- Rotary control for fresh air blower - V2-
- Rotary temperature control
Installation location of the heating and air conditioner control unit components -J255-
Climatronic control unit - J255-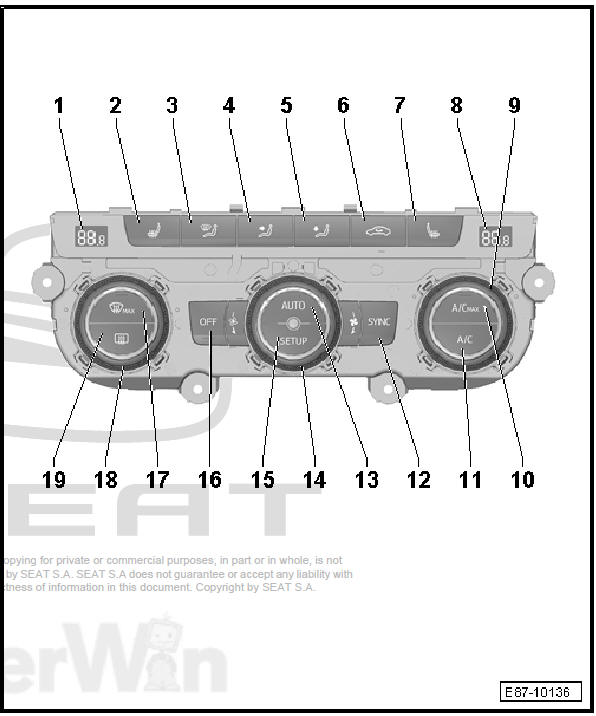 - Digital temperature display
- Right seat heating button
- Button for setting air distribution Up
- Button for setting air distribution Centre
- Button for setting air distribution Down
- Air recirculation button
- Left seat heating button
- Digital temperature display
- Passenger side rotary temperature setting control
- The button AC max is for the maximum output of the air conditioning compressor
- AC button for air conditioner compressor
- SYNC button
- Auto button for automatic air conditioner control
- Rotary control for fresh air blower - V2-
- SETUP button
- The button Off is for switching off the air conditioning compressor
- Defrost mode button
- Driver side rotary temperature setting control
- Heated rear window button
Removing and installing control and display unit Special tools and workshop equipment required Lever for the front-end - 3370- Removal: Note The picture shows a vehicle with Climatronic. ...
See also:
Overview of the warning lamps
The warning lamps indicate a number of different functions and possible faults. Fig. 46 Instrument panel with warning lamps. Some of the items of equipment listed here are fitted only on certai ...