Seat Leon >> Assembly overview - evaporator housing
Note
There are different designs and makes of heater and air conditioning unit. The individual components of the various heaters and air conditioning units are similar but not identical. The combined fitting of different makes of component is therefore not permissible.
The following illustration shows a "Valeo" evaporator housing, distinguishing features with respect to other makes of heater and air conditioning unit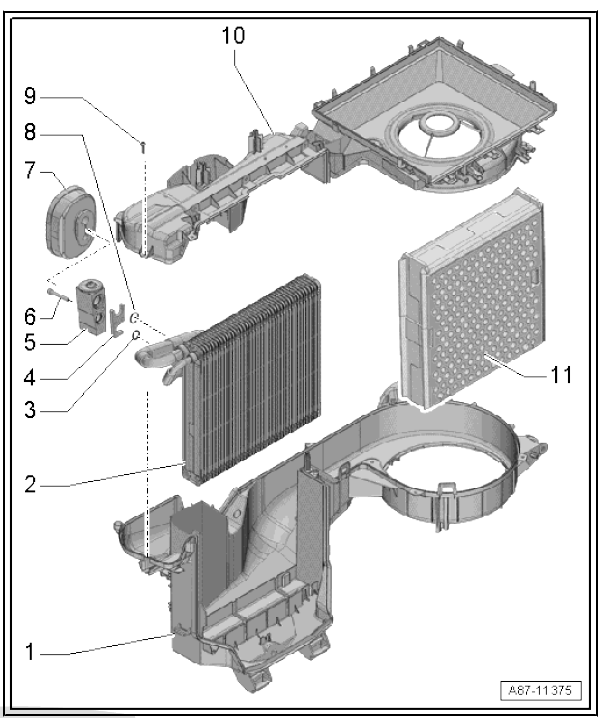 - Evaporator housing (bottom section)
- Evaporator

with AC only
Check foam seals for damage and proper attachment
Removing and fitting

- O-ring

Replace
Moisten with refrigeration oil before fitting

- Retaining plate

with AC only
For fixing refrigerant line in position and securing expansion valve

- Expansion valve

with AC only
Assembly overview

- Bolt.

with AC only
Tightening torque

- Sealing and insulation

Heat insulation for expansion valve
There is no opening for the expansion valve in the plenum chamber back wall seal or this is closed off by a foam pad on vehicles with no air conditioner

- O-ring

with AC only
Replace
Moisten with refrigeration oil before fitting

- Bolt.
- Evaporator housing (top section)
- Honeycomb element

Only fitted on vehicles with heater (with no air conditioner)
View from front Note Arrow = Direction of movement - Right flap for warm air from heat exchanger Actuated by way of right cold air flap - Operating lever For flap control ...
WARNINGDanger from refrigerant escaping under pressure! Freezing of skin and other body parts. Evacuate the refrigerant and then open the refrigerant circuit immediately. ...
See also:
Removing and installing wind deflector
Removing Note To remove the wind deflector -3- it is not necessary to remove the bracket -1-. Completely open the panoramic window. Push against the frame of the wind deflector -3- to loosen ...