Seat Leon >> Assembly overview - heater and air conditioning unit
Note
There are different designs and makes of heater and air conditioning unit. The individual components of the various heaters and air conditioning units are similar but not identical. The combined fitting of different makes of component is therefore not permissible .
The following illustrations show a "Valeo" heater/air conditioning unit, distinguishing features with respect to other makes
Heater and air conditioning unit, flap control left side: Assembly overview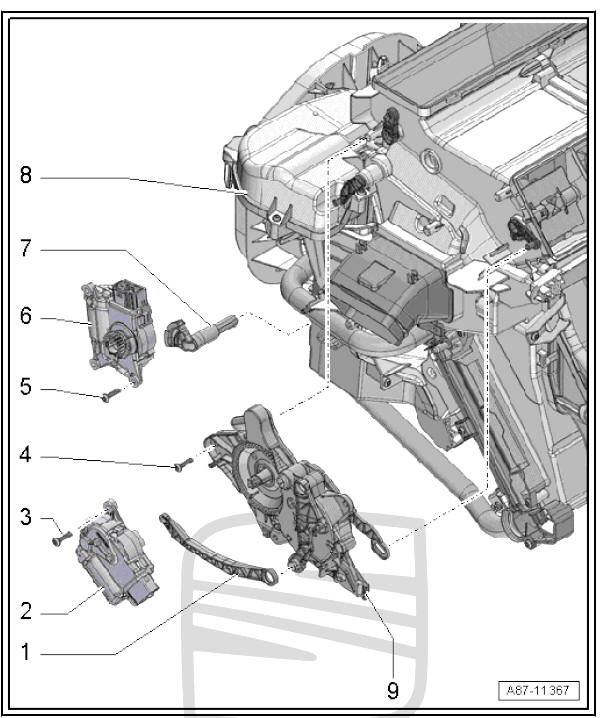 - Operating lever

For actuation of defrost and air distributor flap

- Air distribution flap servomotor
Heater and manually controlled air conditioner:

Air distribution flap servomotor - V428- with potentiometer for air distribution flap servomotor - G645-

Automatically controlled air conditioner:

Front air distribution flap servomotor - V426- with potentiometer for front air distribution flap servomotor - G642-
Removing and fitting
- Bolt.
- Bolt.
- Bolt.
- Servomotor for temperature flap
Heater and manually controlled air conditioner:

Temperature flap control motor - V68- with potentiometer for temperature flap control motor - G92-
Removing and fitting

Automatically controlled air conditioner:

Left temperature flap control motor - V158- with potentiometer for left temperature flap control motor - G220-
Removing and fitting
- Operating lever
- Heater and air conditioning unit

Many components of the heater and heater/air conditioning unit are identical
Different versions
The combined fitting of different makes of component is not permissible
The following illustrations show the heater from "Valeo"
Assembly overview

- Defroster and air distribution flap actuator
Heater and air conditioning unit, flap control right side: Assembly overview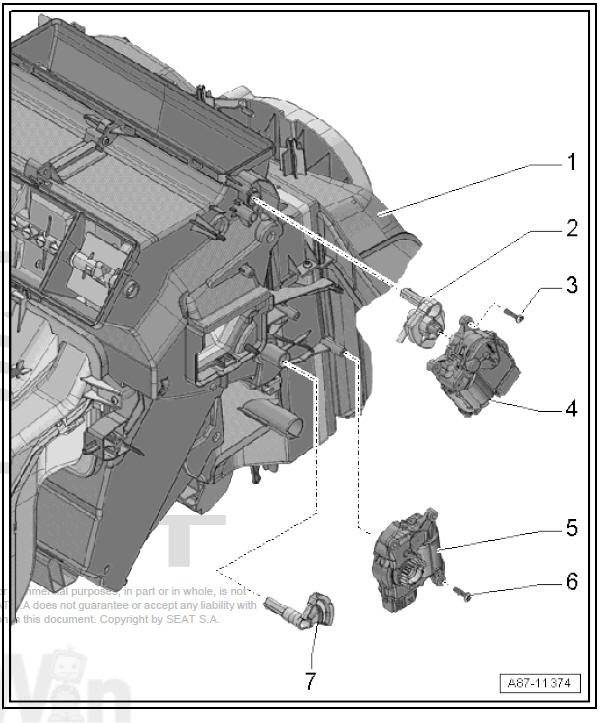 - Heater and air conditioning unit
- Operating lever
- Bolt.
- Defroster flap servomotor - V107-

With potentiometer for defroster flap servomotor - G135- .
Only for automatically controlled air conditioner
Removing and fitting

- Right temperature flap servomotor - V159-

With potentiometer for right temperature flap servomotor - G221-
Only for automatically controlled air conditioner
Removing and fitting

- Bolt.
- Operating lever
Heater and air conditioning unit, heat exchanger, auxiliary air heater element: Assembly overview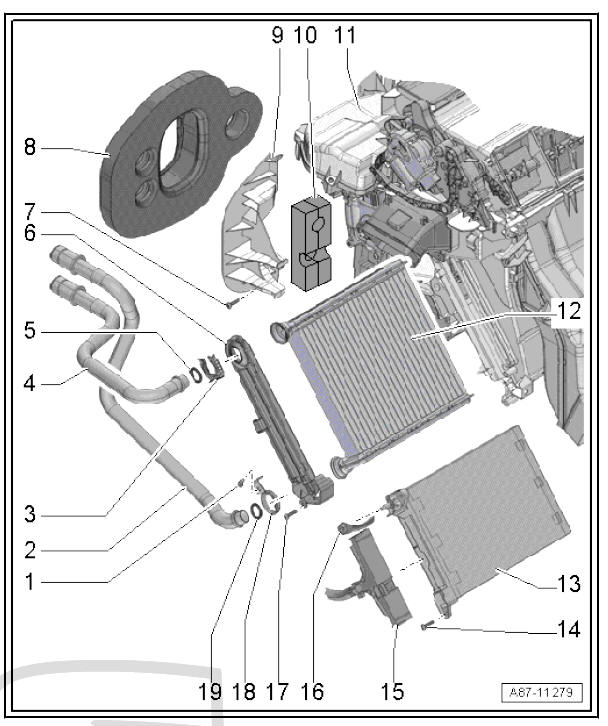 - Bolt.
- Coolant pipe for heat exchanger
- Staple

Can also be replaced by a clamp in the course of service work

- Coolant pipe for heat exchanger
- O ring
- Cover
- Bolt.
- Foam spacer
- Support plate
- Foam rubber

For insulation
Note the fitting position:

- Heater and air conditioning unit

Removing and fitting
Dismantling and assembling

- Heat exchanger
- Heating element for additional heater - Z35-
- Bolt.
- Electrical wire
- Negative wire
- Bolt.
- Screw-type clip
- O-ring
Note There are different designs and makes of heater and air conditioning unit. The individual components of the various heaters and air conditioning units are similar but not identical. The ...
See also:
Reversing camera system
Layout - reversing camera system The reversing camera supports the driver during reversing by providing the driver with an image of the traffic situation behind the vehicle on the radio/navigation ...