Seat Leon >> Location overview - Sound system
Location overview - Sound system, 2-door vehicle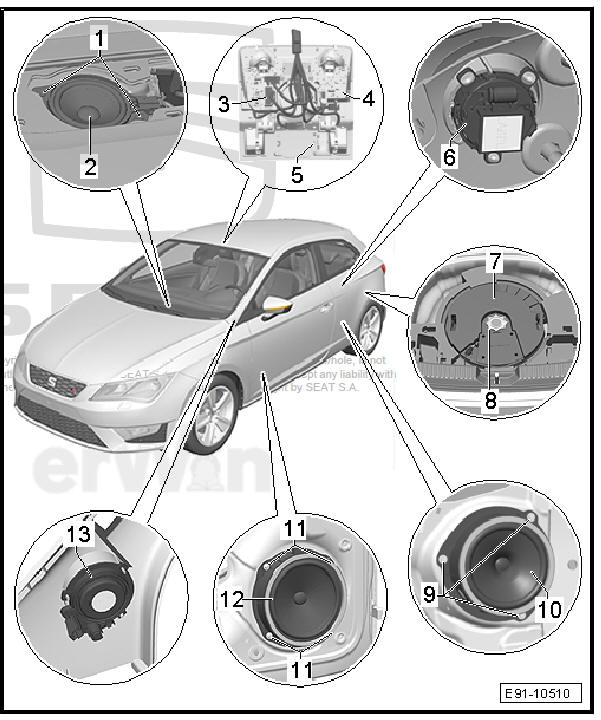 - Screw
- Centre loudspeaker - R208-
- Multi-pin connector, 6-pin
- Front interior light - W1-
- Telephone microphone - R38-

Assembly overview
Removal and installation

- Rear left treble loudspeaker - R14- / rear right treble loudspeaker - R16-
- Subwoofer - R211-
- Screw
- Screw
- Rear left bass loudspeaker - R15- / rear right bass loudspeaker - R17-
- Screw
- Front left bass loudspeaker - R21- / front right bass loudspeaker - R23-
- Front left treble loudspeaker - R20- / front right treble loudspeaker - R22-
Location overview - Sound system, 4-door vehicle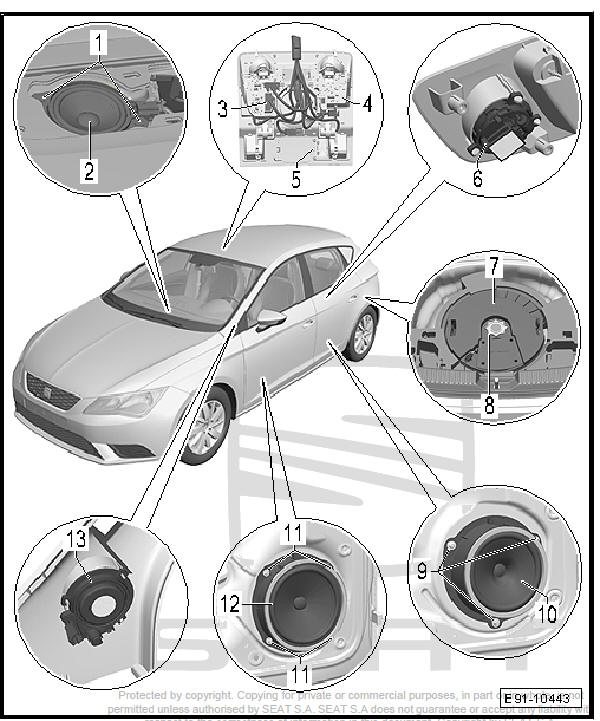 - Screw
- Centre loudspeaker - R208-
- Multi-pin connector, 6-pin
- Front interior light - W1-
- Telephone microphone - R38-

Assembly overview
Removal and installation

- Rear left treble loudspeaker - R14- / rear right treble loudspeaker - R16-
- Subwoofer - R211-
- Screw
- Screw
- Rear left bass loudspeaker - R15- / rear right bass loudspeaker - R17-
- Screw
- Front left bass loudspeaker - R21- / front right bass loudspeaker - R23-
- Front left treble loudspeaker - R20- / front right treble loudspeaker - R22-
Removing and installing rear treble loudspeakers R14 / R16, 2-door vehicle Note The removal and installation of the rear left treble loudspeaker - R14- is described. The removal and installation o ...
See also:
Function of side airbags
Inflated airbags can reduce the risk of head or chest injury in many side impact collisions. Fig. 22 Illustration of principle: inflated side airbags on left side of vehicle In some side colli ...