Seat Leon >> Assembly overview - headlight
Assembly overview - headlight, halogen headlight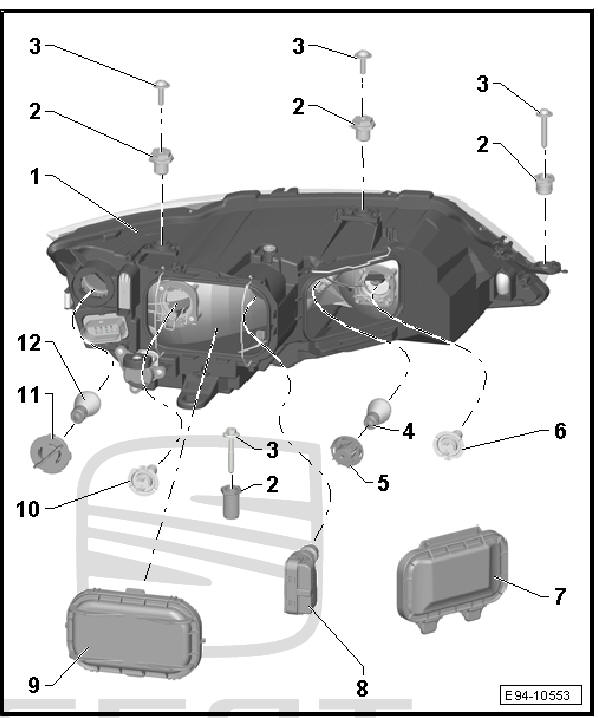 - Headlamps

Removal and installation
Correcting installation position of headlight
Headlights: Adjust
Headlights: checking adjustment

- Adjustment nut

4 Pieces
Correcting installation position of headlight

- Bolts
- Front left turn signal bulb - M5- or front right turn signal bulb - M7-
- Flasher light lamp holder
- Left-hand main beam headlamp - M30- or the right-hand main beam headlamp - M32-
- Rear cover for the main beam / indicator
- Left headlight range control motor - V48- or right headlight range control motor - V49-
- Rear cover for the dipped beam
- Bulb for left dipped beam - M29- or bulb for right dipped beam - M31-
- Lamp holder for the daytime running light / side light
- Left bulb for daytime running lights and parking lights - L186- and right bulb for daytime running lights and parking lights - L188-
Assembly overview - Headlights, Full-LED headlights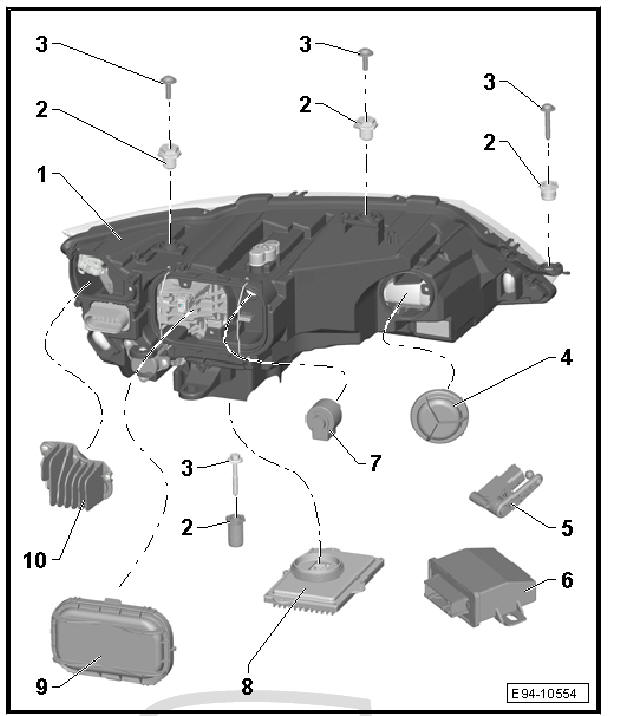 - Headlamps

Removal and installation
Correcting installation position of headlight
Headlights: Adjust
LED headlight: check setting

- Adjustment nut

4 Pieces
Correcting installation position of headlight

- Securing screws
- Cover the main beam bulb
- Vehicle level sender
- Headlight range control unit - J431-
- Left headlight range control motor - V48- or right headlight range control motor - V49-
- Output module for left headlight - J667- or output module for right headlight - J668-
- Cover for dipped beam bulb
- Left LED module for daytime running lights and side light - L176- or right LED module for daytime running lights and side light - L177-
Assembly overview - headlight, headlight track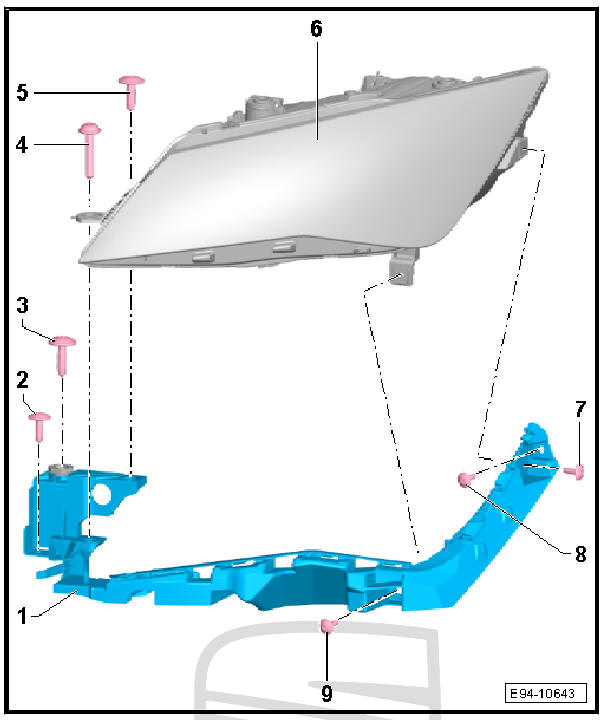 - Headlight track under headlight
- Screw
- Screw
- Screw
- Screw
- Headlamps
- Screw
- Screw
- Screw
Headlights: removing and installing, left headlight Note Removal and installation are described for the left side. Removal and installation on the right side are carried out laterally reversed in ...
See also:
Exploded view - noise insulation
Assembly overview - short noise insulation Note During removal and installation, take note of small amounts of differences depending on the engine. - Short noise insulation - Bolt. 8 of ...