Seat Leon >> Adjusting windscreen wiper arms
Operation process
Note If the wiper motor needs to be run during repair work, the bonnet must be closed (voltage supply to wiper motor is cut off when bonnet is open).
Remove wiper arms.
Switch on ignition.
Actuate "touch wipe" function and allow wiper motor to move to end position.
Note
Every second time the wiper motor is switched off it runs back slightly after reaching the end position, which turns the lip of the wiper blade in the opposite direction.
The wiper motor moves the wiper arms down beyond their end position and then back up slightly. This slightly raised position must not be used when aligning the wiper crank.
You must use the end setting at which the wiper motor moves directly to its park position (without returning). Operate the "touch-wipe" function again as necessary.
Removing
Switch off ignition and all electrical consumers.
Vehicles without access and start authorisation system
Remove ignition key, if fitted.
Vehicles with access and start authorisation system
Store the ignition key outside the vehicle to prevent the ignition from being switched on unintentionally.
Continued for all vehicles
Attach wiper arm to wiper shaft with wiper blade fitted and align wiper blade on windscreen as follows:

Before screwing off the windscreen wiper arms, the wiper blades must be positioned on the markings of the windscreen -a- and -b-.
Note Dimensions indicate distance between tips of wiper blades and plenum chamber cover at bottom edge of windscreen.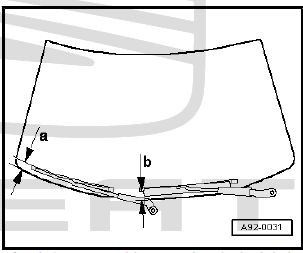 Tighten nuts -2- for wiper arms -1-.
Switch on ignition.
Actuate "touch wipe" function and allow wiper arms to move to end position.
Switch off ignition.
Check the setting of the wiper arms again and correct if necessary.
Press cover caps -arrows- onto wiper arms.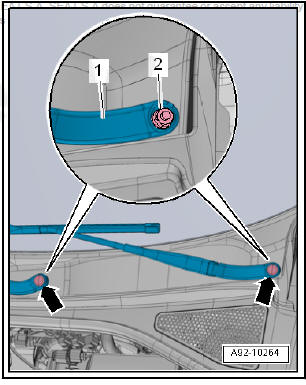 Special tools and workshop equipment required Tool kit for wiper arms - T10369- Removing CautionRisk of damage to wiper shafts The wiper shafts can be damaged if you attempt t ...
Removing Remove wiper arms. Remove bolts -1, 3, 5-. Take wiper frame -2- with linkage and wiper motor out of plenum chamber. Unplug the electrical connector -4-. Installing Installatio ...
See also:
Exploded view - electronic damping control
Assembly overview - electronically controlled damping system, torsion beam axle, saloon - Front right vehicle level sender - G289- Removing and installing - Front right body accele ...